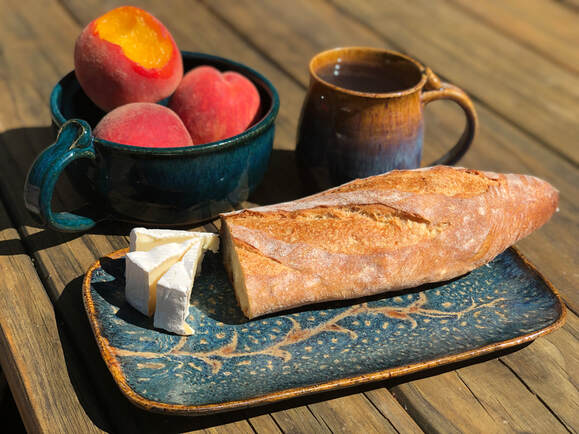 Summer fare from Rye Berry Bakery and Cafe, Hamilton, NY. served on Ede Walker Pottery
Due to the Corona Virus my Summer Shows have been cancelled. Please check my Show Schedule Page for updates. This strange wrinkle in time has pushed me to update my web page (and start an Etsy Store). As this is still a work in progress, there will be updates.
​ I am missing seeing all of my customers face to face and hope you all are doing OK.. Spring is here. The garden will grow, we will recover. So..........till we meet again..........
---

Hello.
​Welcome.

Come in, take a look around and get in touch with me if you see something you are interested in.
​

My pottery is constantly changing and evolving. Most of my work is functional...although a few of my pieces are purely decorative. My functional pottery is designed to be used and enjoyed....... light enough for comfort and yet sturdy enough to be practical. I have tried to develop forms and glazes that are pleasing both to the eye and the hand.

It is oven safe and can be used in the microwave and the dishwasher. Because each piece is made by hand, not two pieces are identical. I do make sets and repeat designs, but there are always variations due to the nature of the clay, the glazes, the process and.........me.

I use stoneware clays and fire my pots to cone 6 in an oxidation atmosphere.